US Ambassador to Pakistan, Donald Blome, on Saturday embarked on a series of diplomatic engagements in Multan, following his meeting with Pakistan Muslim League-Nawaz (PML-N) Supremo Nawaz Sharif earlier in the day.
The discussions focused on reinforcing the importance of free and fair elections while also aiming to strengthen trade and investment ties between the United States and Pakistan, Express News reported.
Ambassador Blome's first meeting, hosted by former prime minister and Pakistan Peoples Party (PPP) leader Syed Yousuf Raza Gilani, served as a platform for multi-faceted discussions with representatives from various political parties in South Punjab.
Notable attendees included former Punjab Governor Malik Muhammad Rafique Rajwana, former Punjab Chief Minister Sardar Dost Muhammad Khan Khosa, Senator Rana Mahmoodul Hassan, Ayaz Khan Niazi, former MNA Meena Leghari, Khalid Khan Khakwani, former MNA Natasha Daulatana, Shahnaz Saleem, former MPA Ahmed Mujtaba Gilani, former MNA Abdul Qadir Gilani, and former Provincial Minister Ali Haider Gilani.
During the meeting, the political leaders extended a warm welcome to the US ambassador. Gilani led a detailed discussion on the possible emerging political scenario in South Punjab after the general elections.
Read More: US envoy, Nawaz discuss bilateral ties and regional concerns
In a separate meeting, Ambassador Blome engaged with Istehkam-e-Pakistan Party (IPP) Patron-in-Chief Jehangir Tareen.
Multan: Former Prime Minister and Parliamentary Leader of Pakistan People's Party in the Senate, Senator Makhdoom Syed Yusuf Raza Gilani met US Ambassador Donald Bloom and US Consul General Miss Kirsten K. Hawkins at Gilani House, Multan. pic.twitter.com/c45MF1CLk9

— Pakistan Peoples Party – PPP (@PPP_Org) November 18, 2023
The discussions, held at Tareen's residence in Lahore, involved key talks on Pak-US relations, economic reforms, and the upcoming general elections. The discourse extended to economic reforms, reflecting the mutual interest in fostering a robust economic partnership between the two nations.
Tareen highlighted the party's rigorous election and political activities, asserting their readiness for the upcoming electoral process. He also expressed the party's stance on the human rights condition in Pakistan.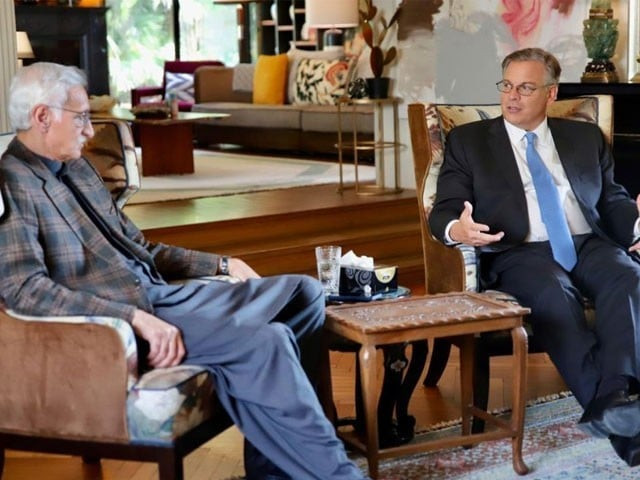 Earlier, the US ambassador met PML-N Supremo Nawaz Sharif to discuss the significance of an 'enduring' relationship between Pakistan and the United States. This marks the second meeting of the party supremo with a foreign dignitary, having previously met British High Commissioner Jane Marriot earlier in the week.
During the meeting with Nawaz Sharif, discussions revolved around the political and economic situation of the country, particularly in the context of PML-N's preparations for the upcoming general elections. Sharif expressed confidence that the people of Pakistan would once again repose their trust in the PML-N to lead the country.
British envoy meets Zardari
Meanwhile, in Karachi, former president and co-chairman of the Pakistan Peoples Party (PPP), Asif Ali Zardari, engaged in a diplomatic exchange with British High Commissioner Jane Marriot to discuss bilateral relations between Pakistan and the United Kingdom.
Karachi: President of Pakistan Peoples Party Parliamentarians Asif Ali Zardari met British High Commissioner Jane Marriott

Karachi: Former President Asif Ali Zardari's message of happiness regarding the birthday of King Charles

Karachi: President Asif Zardari also expressed good wishes for David Cameron to become Foreign Minister. pic.twitter.com/7rpwqbdRGf

— PPP (@MediaCellPPP) November 18, 2023
Zardari conveyed best wishes on the occasion of King Charles' birthday and extended congratulations to David Cameron on assuming the role of Secretary of State for Foreign, Commonwealth, and Development Affairs of the United Kingdom.
Read More: Pak envoy meets key US lawmakers
The discussion took a global perspective as Zardari urged Britain to take on a reconciliatory role in bringing an end to Israeli aggression in Gaza, emphasising the importance of international cooperation in addressing regional conflicts.
The two dignitaries delved into the development and enhancement of Pak-UK relations, emphasising shared interests and collaborative initiatives.
Senator Saleem Mandviwalla and Dr Asim Husain were also present during the meeting.