RAMALLAH/GAZA:

Palestinian President Mahmoud Abbas demanded an immediate Israeli ceasefire at a meeting with top US diplomat Antony Blinken on Sunday, as Gaza's health ministry said dozens died in a strike on a refugee camp overnight.
Blinken, who has repeatedly dismissed the idea of a ceasefire by Israel for fear it would benefit Hamas, was making an unannounced visit to the occupied West Bank, as part of effort to try and ensure the Israel-Hamas war does not spread in the region.
His visit to Ramallah took place as people sifted through rubble for victims or survivors at the Maghazi refugee camp refugee camp in Gaza.
"All night I and the other men were trying to pick the dead from the rubble. We got children, dismembered, torn apart flesh," said Saeed al-Nejma, 53, adding that he had been asleep with his family in their single-storey house when the blast hit his neighbourhood.
A spokesman for the health ministry in the Hamas-run Gaza Strip said earlier on Sunday that the Israeli military had struck the camp overnight, killing at least 47 people.
In a separate attack, 21 Palestinians from one family, including women and children, were killed in Israeli strikes targeting Gaza overnight, the health ministry said.
'No words'
US Secretary of State Antony Blinken meets with Palestinian President Mahmoud Abbas at the Muqata in Ramallah, November 5, 2023. PHOTO: REUTERS
"We demand that you stop them from committing these crimes immediately," Abbas told Blinken, demanding an "immediate ceasefire" from Israel.
"There are no words to describe the war of genocide and destruction to which our Palestinian people are being subjected in Gaza at the hands of the Israeli war machine, without regard to the rules of international law," Palestinian news agency WAFA quoted Abbas as telling Blinken.
Foreign ministers from Qatar, Saudi, Egypt, Jordan and the United Arab Emirates met Blinken in Amman on Saturday and also pushed for Washington to convince Israel to agree to a ceasefire.
Pope Francis joined calls for peace. "Stop in the name of God," he said Sunday, calling for humanitarian aid and help for the injured in order to ease the "very grave" situation in Gaza.
But Blinken has said a ceasefire would benefit Hamas, allowing it to regroup and attack again. Instead, the United States are pushing for localised pauses in fighting to allow in humanitarian aid and for people to leave the densely populated Gaza Strip.
"The Secretary reaffirmed the United States' commitment to the delivery of life-saving humanitarian assistance and resumption of essential services in Gaza," spokesperson Matthew Miller said.
Read: Blinken rejects Arabs' calls for Gaza ceasefire
Abbas has had little sway in Gaza since the Hamas takeover of the enclave in 2007.
Israel says it is targeting Hamas, not civilians, and that the Islamist Palestinian group is using residents as human shields.
Gaza health officials said on Sunday more than 9,770 Palestinians have been killed in the war, which began when Hamas fighters launched a surprise attack on southern Israel on Oct. 7, killing 1,400 people and taking more than 240 others hostage.
Evacuations of injured Gazans and foreign passport holders through the Rafah crossing to Egypt have been suspended since Saturday, two Egyptian security sources and a medical source told Reuters.
One of the security sources and the medical source said the evacuations were suspended after an Israeli strike on Friday on an ambulance in Gaza being used to transport injured people. The Israeli military said, without showing evidence, the vehicle was carrying Hamas fighters.
More strikes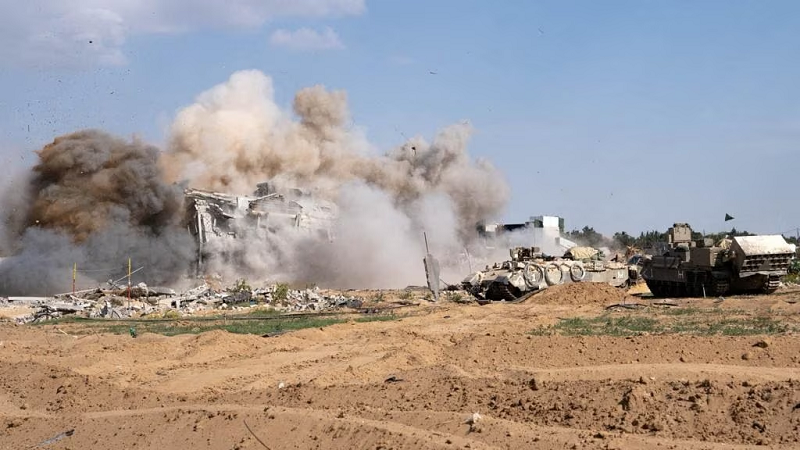 A view of military action at a location given as Gaza, in this handout image released on November 5, 2023. PHOTO: REUTERS
Israel continued to strike the Gaza Strip by air, sea, and ground overnight.
Gaza health officials said Israeli air strikes destroyed a cluster of houses in the Maghazi refugee camp. Asked for comment, the Israeli military said they were waiting and gathering details.
Mohammad Al-Aloul, a photographer for Turkish news agency Anadolusaid he lost his four children, four of his brothers and their children in the strike, which destroyed his house.
"I arrived in hospital and found out that my four children, including my only daughter, were martyred," Al-Aloul told Reuters.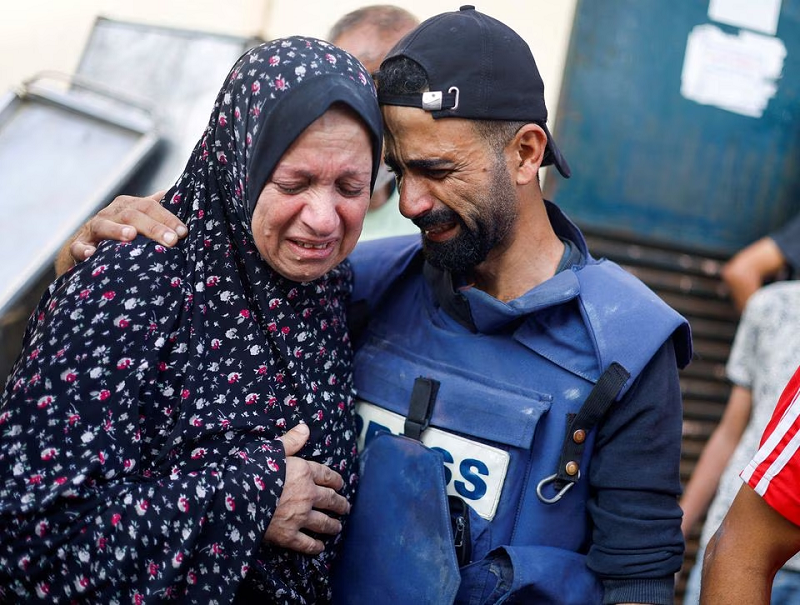 Anadolu Agency cameraman Mohammed El Aloul reacts after several of his children and siblings were killed in Israeli strikes at a hospital in the central Gaza Strip, November 5, 2023. PHOTO: REUTERS
The Palestinian Red Crescent said there was also intense bombardment, violent artillery explosions, and air strikes in the vicinity of the Al-Quds Hospital in Gaza's Tal Al-Hawa area.
US special envoy David Satterfield said in Amman on Saturday that 800,000 to a million people had moved south, while 350,000 to 400,000 remained in and around Gaza City.
Living conditions in Gaza, already dire before the war, have deteriorated. Food is scarce, residents are drinking salty water and medical services are collapsing.
The UN humanitarian office estimates that nearly 1.5 million of Gaza's 2.3 million people are internally displaced.
Qatar's foreign ministry said that without a "period of calm" in Gaza its mediators would not be able to secure the release of Israeli hostages held in the enclave.
The Gulf state has, in coordination with the US, led mediation talks with Hamas and Israeli officials over the release of hostages since the Oct. 7 attack.
Meanwhile, Israeli Prime Minister Benjamin Netanyahu on Sunday disciplined a junior member of his cabinet who voiced openness to the idea of Israel carrying out a nuclear strike on Gaza.
West Bank violence worsens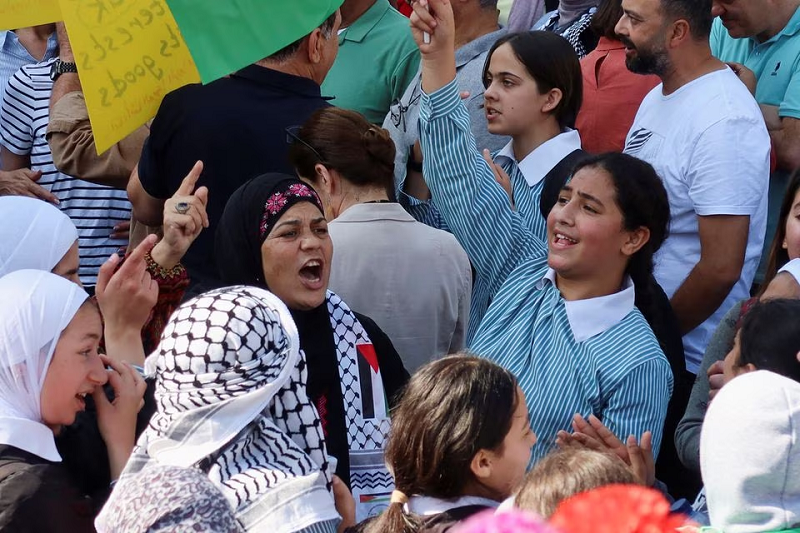 Palestinians take part in a protest against the visit of US Secretary of State Antony Blinken in Ramallah in the Israeli-occupied West Bank November 5, 2023. PHOTO: REUTERS
Meanwhile, worsening violence in the Israeli-occupied West Bank has fuelled concerns that the flashpoint Palestinian territory could become a third front in a wider war, in addition to Israel's northern border, where clashes with Lebanese Hezbollah forces have mounted.
In Abu Dis, a Palestinian village near Jerusalem, Israeli police conducting an arrest raid were fired on by a gunman and killed him, a police spokesperson said.
The Palestinian health ministry said three Palestinians were killed in the incident, which it described as clashes with Israeli forces. Another Palestinian was killed by Israeli troops in the West Bank city of Hebron, the ministry said. The Israeli military did not immediately comment on that.
Read: Prayers, protests and clashes in Jerusalem and West Bank as Gaza war rages
Blinken and Abbas "discussed efforts to restore calm and stability in the West Bank, including the need to stop extremist violence against Palestinians and hold those accountable responsible," spokesperson Miller said.
This year had already been the deadliest for West Bank residents in at least 15 years, with some 200 Palestinians and 26 Israelis killed, according to UN data. Since the war in Gaza began, 121 West Bank Palestinians have been killed.
Protests
Israel's assault and siege have stirred global alarm at humanitarian conditions in the narrow coastal enclave.
Pro-Palestinian demonstrators staged protests on Saturday in cities including London, Berlin, Paris, Istanbul and Jakarta, calling for a ceasefire. Tens of thousands gathered in Washington to denounce President Joe Biden's war policy and demand a ceasefire.
In Indonesia, the world's most populous Muslim country, Foreign Minister Retno Marsudi reaffirmed the government's support for the struggle of the Palestinian people in front of tens of thousands gathered in Jakarta.
Iran said that the United States would "be hit hard" if Washington did not implement a ceasefire in Gaza, the country's Minister of Defence was quoted as saying by the semi-official Tasnim news agency on Sunday.
Blinken is to visit Turkey on Monday for talks on the conflict, continuing his second trip to the region since the conflict reignited.