Saudi Crown Prince Mohammed bin Salman. PHOTO: REUTERS
---
KARACHI, PAKISTAN:

Caretaker Federal Minister for Energy, Power and Petroleum Mohammad Ali has said that Pakistan is actively engaged with Saudi Arabia for potential investment of around $10 billion in the oil refining sector, believing their efforts will bear fruit in a couple of months.
Talking to media on sidelines of "The Future Summit – The Big Picture" on Wednesday, the minister dismissed the impression that there were mere talks while nothing concrete would emerge. "You will see (meaningful) progress within one to two months," he said.
Denying delay in Saudi Aramco's investment plans for Pakistan, Ali stressed that developments were taking place consistently. "This is a big investment project of $8-10 billion…investment, funding structure, policy framework (all such things take some time)."
Responding to a question, the minister said Aramco would decide the location of investment like whether it would set up a multibillion-dollar refinery in Hub or Gwadar. "Aramco will decide the location of investment (not Pakistan)," he clarified.
Saudi Crown Prince Muhammad bin Salman had announced new investment projects worth $21 billion during his visit to Islamabad in February 2019. The $10 billion refinery project was one of them.
Aramco has announced plans to install the refinery with production capacity of 450,000 barrels of oil per day.
Earlier speaking at the inaugural session of the two-day conference, Ali called on the nation to focus on two long-term objectives to come out of the current financial and economic crisis, which included boosting export earnings and documenting the informal economy.
These two goals will lead to the much-needed structural reforms in addition to fixing the economic ills such as a volatile rupee-dollar exchange rate, high interest rate, heavy borrowing and an elevated fiscal deficit.
The minister lamented that wrong policies and decision-making of the past had created a multidimensional crisis while policy inconsistency and abrupt policy changes did not let Pakistan progress.
He pointed out that tax and other favours for millions of businesses in the informal sector were discouraging the culture of corporatisation.
Read
Saudi Arabia shows interest in investment
He also questioned the allocation of resources for state-owned enterprises, saying that the countries which came into being along with Pakistan "are 10 to 20 years ahead of us while we have regressed."
Pakistan's per capita income has dropped instead of growing while tax-to-GDP (gross domestic product) ratio has remained in single digit.
He stressed that energy had become a lifeline for countries around the globe while 50 million people (almost 20%) in Pakistan were still living without electricity or off the grid. "We learnt lessons, but did not implement them," he remarked.
Agricultural revolution
Speaking at the conference, Pakistan Army Director General Strategic Projects Major General Shahid Nazir said that under its Green Pakistan Initiative, Pakistan Army took the responsibility of transforming deserted land into fertile agricultural land.
Under the project, it is targeting to transform 18,200 square km of deserted land into farmland. Such land is found in all provinces across the country. "They have implemented a successful project in Cholistan, Punjab."
The objective of the Green Pakistan Initiative is to promote food security, create avenues of import substitution and export surplus products, which are the key to becoming a developed nation.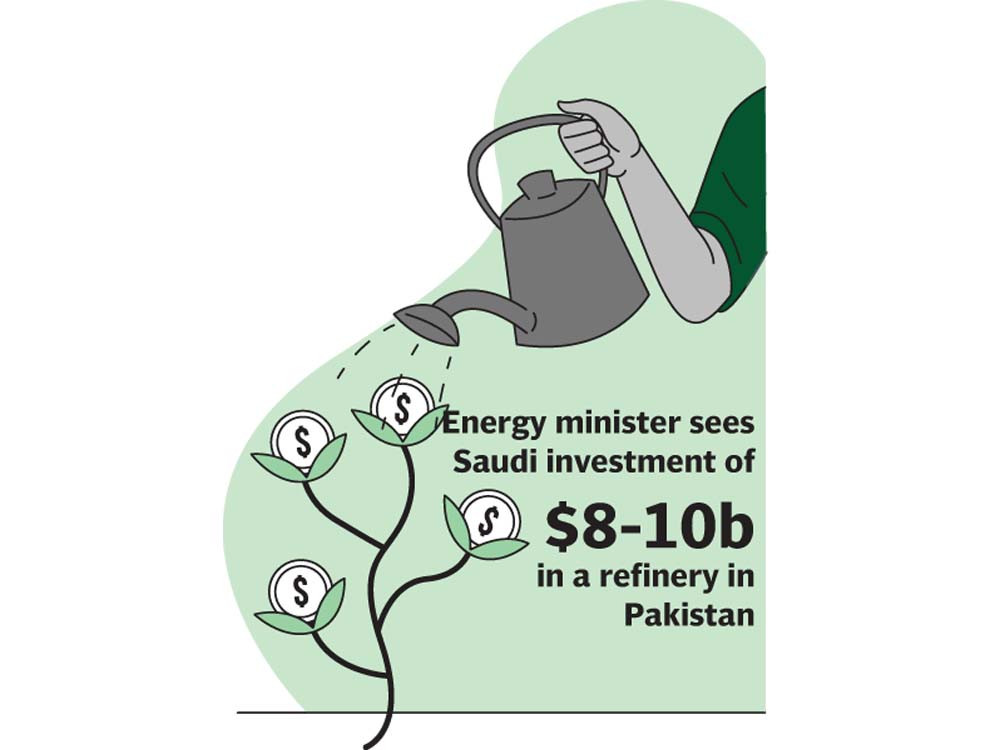 design: Ibrahim Yahya
"The aim is to attract foreign investment for such agricultural land. The UAE and China are the two potential big investors for the project," Nazir said.
The project had been designed to get access to the $100 billion carbon credit market later, he revealed, adding that Pakistan had 12 different climates and they were developing 32 new varieties of seeds under the project.
Overseas Investors Chamber of Commerce and Industry President Amir Paracha asked conference participants to believe in Pakistan and invest in it as "today's challenges are opportunities for tomorrow".
"Young population is an asset of the nation. This will pay dividends as Pakistan has every kind of resources to flourish," he said.
Nutshell Group CEO and former state minister of investment Muhammad Azfar Ahsan was of the view that the biggest challenge for Pakistan was not the economic crisis, but the 28 million children that were out of the school.
Published in The Express Tribune, November 16th2023.
Like Business on Facebook, follow @TribuneBiz on Twitter to stay informed and join in the conversation.